When it comes to getting your home sold, a key role in this process is marketing your home to the right buyers who would be hopefully submitting offers on your property.
With Hazem and the RE/MAX International brand, you're guaranteed the exceptional exposure your home really deserves.
Below is a list of an array of marketing tools we utilize to market clients' homes and ultimately get them sold.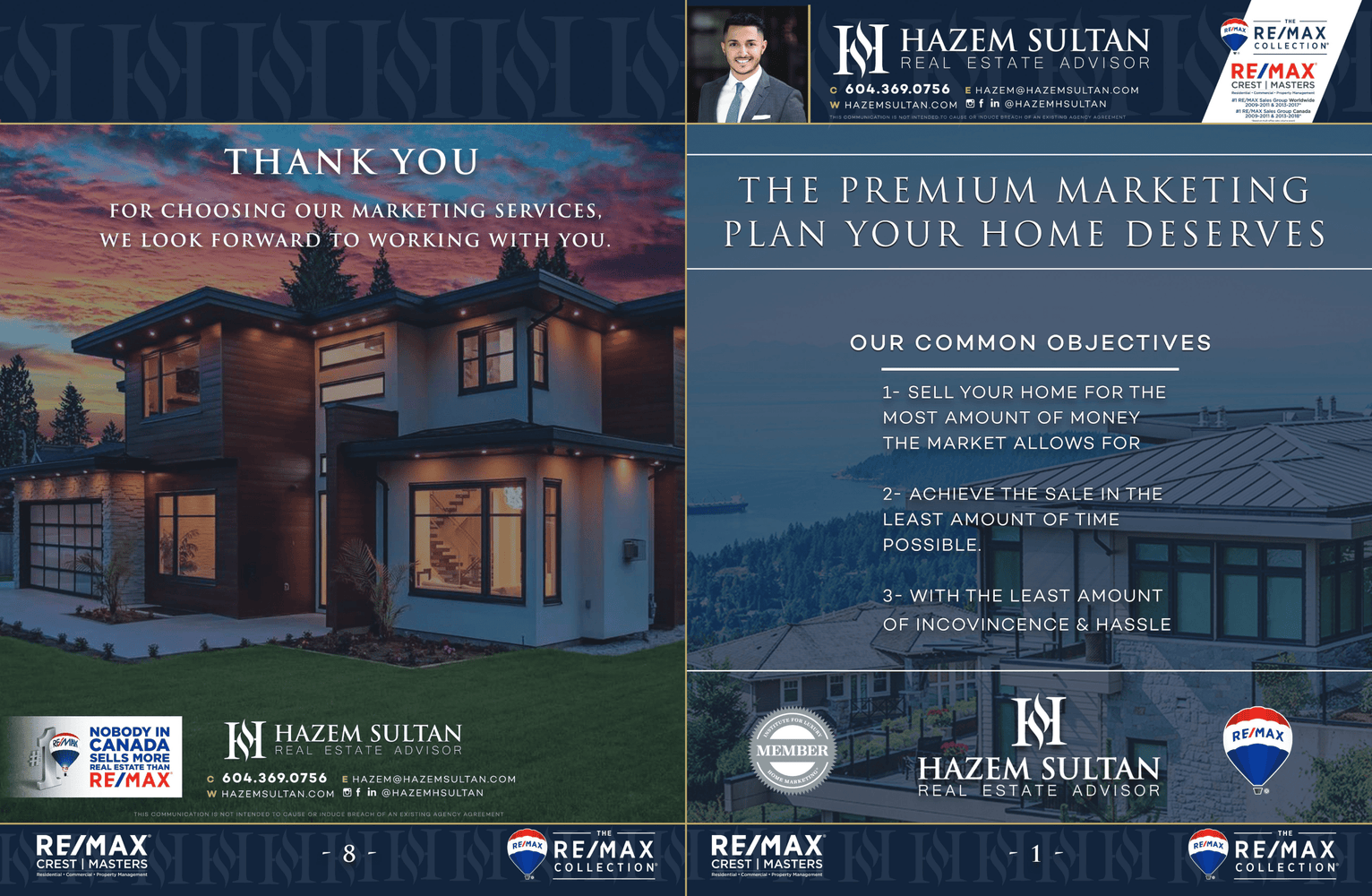 Your listing will enjoy full exposure to the MLS®, the Multiple Listing Service®, where All licensed real estate agents in the Greater Vancouver area and their buyer clients have access to your listing.
High quality Feature sheets and brochures
Visitors to your property's open house will get a copy of a high quality Feature Sheet and a Property Brochure designed to convey the unique features your enjoys and offers to potential buyers. This marketing effort helps make your property be top of mind as visitors of an Open House tend to visit multiple open houses on the same day. Furthermore, these tools certainly make your home stand out from the other properties they've visited.
The RE/MAX Advantage & Advertisement On Top Real Estate Websites
With Hazem, beyond the significant exposure the MLS® will provide, your property will also be listed on and visible to visitors of the following popular real estate websites to further expand the listing's reach with a focus on directly reaching potential buyers. These websites include, REMAX.
ca , REMAX.com & Global.Remax.com Realtor.ca , Rew.ca , Redfin.ca among other websites.
Luxury Homes Enjoy Luxury Marketing
With the help of The RE/MAX Collection. Your luxury property will enjoy an exceptional global reach through remax.com, 
remax.ca and www.remax.ca/luxury which brings in a huge number of traffic with targeting the successful and affluent. 
Hazem will make sure your property is shown to every potential buyer. He'll personally be guiding potential buyers through the home and pointing out all the things that make your home unique and convey the value your home brings to buyers.
Remaining in touch every step of the way:
As our marketing efforts are in full swing, between printing and presenting brochures and feature sheets, holding open houses, and providing exceptional online exposure, Hazem will update you with comments and feedback after showings and open houses so you are aware of every activity and interest your property generates.